The Brandon and Clark Difference
In today's "commoditized" competitive landscape it can be hard to see what makes one solutions provider different from another. It might be tempting to go with the lowest bidder, right? Even though on the surface it might appear "all are equal," that is far from the truth.  When it comes to repair, quality control, repair methodology, testing capabilities, materials used, experience and repair equipment all influence the repairs at hand. Beyond our fundamental differences also comes the value we can add to your industry, business or process.
Rotor Testing Development and Innovation
RMFA and sRMFA  Technology was developed by Brandon and Clark's staff of Professional Electrical Engineers
Many current methods of rotor testing lack the sensitivity to detect rotor bar defects beyond major issues such as a broken rotor bar.
Measuring the magnetic field of a rotor when excited from an external source allows for the detection of a wide variety of rotor defects such as brazed connection degradation, cracked rotor bars, broken rotor bars, and casting defects.
This method of testing provides advantages over many current testing techniques in testing sensitivity, recording, reporting, illustration of machine condition to the end user, and testing safety.
Services that Get to the Root Cause of Failures
Motion Amplification – What you See Changes Everything. See the Problem, See the Solution. Motion Amplification is a service that utilizes patented technology to measure deflection, displacement, movement and vibration of equipment and structures not visible to the human eye. Utilizing a high-performance video streaming camera, in conjunction with one-of-a-kind software and processing algorithms, we are able to extract meaningful data that resolves problems.
Useful to:

Identify
Validate
Specify the source of reliability issues
Prioritize maintenance
Facilities that can Accommodate your Repair Needs
Brandon and Clark has several motor repair facilities spanning across the Panhandle of Texas, to the Permian Basin, and over to East Texas. We are equipped with:
In-house machine and fabrication capabilities
Vertical mill
Engine lathe
50 Tons of hoisting
Dynamic balancing
Clean, climate controlled winding facility
96" VPI (Vacuum Pressure Impregnation) system
sRMFA Rotor tester (Surface Rotor Magnetic Field Analysis)
Critical motor storage
Controlled Pyrolysis Oven
Electric motors impact our lives on a daily basis. Without them, society as we know it would cease to exist. With an asset this important, why would you trust it's repair to just any repair facility?
Choose a facility that's been:
Certified. Proven. Trusted.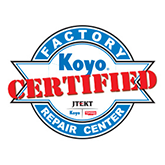 Certified
Since 2015, Brandon and Clark has been a Koyo Factory Certified Repair Center. The program to become Koyo Certified encompasses a 4-step process starting with a comprehensive shop audit by a Koyo representative, leading to a custom designed training class, followed by a certification exam for shop personnel, and lastly, a 2-year check up to make sure certification requirements are still intact.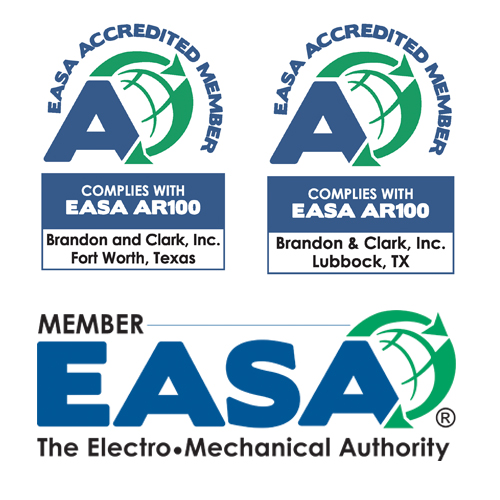 Proven
Since 1953, Brandon and Clark has been a member of EASA, Electrical Apparatus Service Association. We've worked hard and have achieved the status of being an EASA Authorized Service Center and an EASA Accredited Service Center. We follow best practices to consistently deliver quality electromechanical repairs that maintain or improve a motor's efficiency and reliability.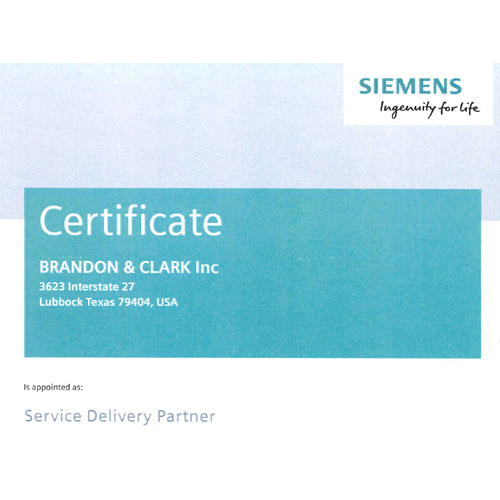 Trusted
Choosing a motor repair facility that is qualified for motor repair is one of the most important decisions you can make when caring for your equipment. Question is, how do you choose or qualify a repair facility? One way to listen to manufacturer's recommendations. Brandon and Clark has been identified by Siemens, as one of only seven Approved Service Delivery Partners.