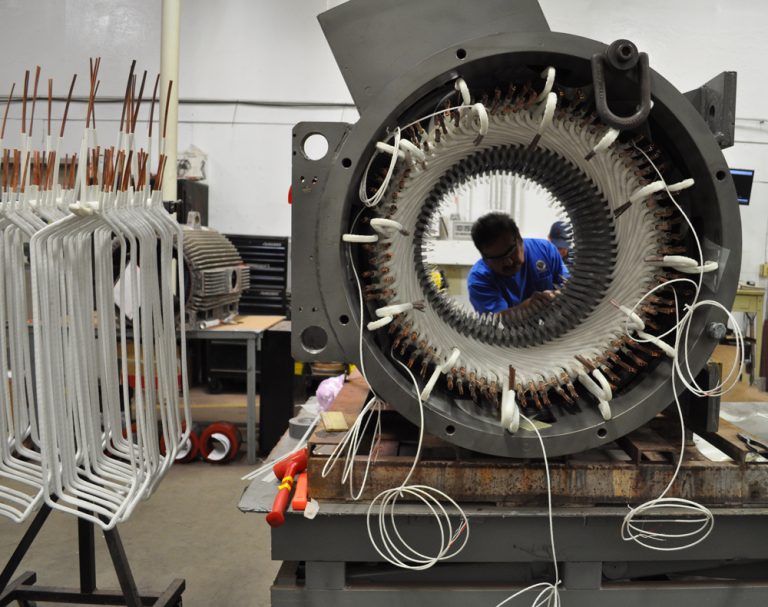 Electric Motor Repair
Electric Motor Testing
In-House Fabrication Capabilities
Critical Motor Storage and Maintenance
The Repair Process is as easy as...
Determining cause of failure is the first step in choosing what kind of repair is needed. Failures can be electrical or mechanical in nature. Once it's determined what kind of repair is needed, an estimation of cost and a timeline will be given.
As your motor moves forward in the repair process, our team will communicate with you throughout the process. All repairs are performed with strict standards and with quality check assurances. Final testing will be performed ensuring your motor is ready for redeployment. 
Just because your motor has left our facility, doesn't mean our service to you is over. We are here to ensure your motor is balanced, aligned and installed correctly.  We also offer preventative and predictive maintenance services to further protect the life of your equipment. 
From small speciality to extra large industrial motors, Brandon and Clark is experienced and equipped to handle all your motor repair needs.
Below and Above NEMA
AC Induction Motors
Squirrel Cage and Wound Rotor
DC Motors
Generators
Vertical and Horizontal Motors
Synchronous and Asynchronous
With 50 tons of hoisting and a huge transfer bay, bringing in motors in and out of our shop can be done without the additional cost of hiring a crane. 
Vacuum Pressure Impregnation (VPI)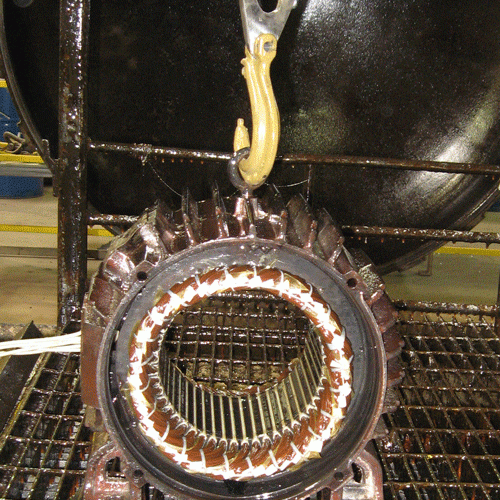 Brandon & Clark windings are processed using Vacuum Pressure Impregnation or VPI. VPI means that windings are processed under vacuum and pressure with solventless epoxy resin to provide void-free electrical windings. The VPI process provides maximum penetration of resin throughout the turns in insulation of individual coils.
VPI is designed specifically to provide complete and void free impregnation on dry-wound insulated form-wound stators to satisfy the requirements of IEEE specification for sealed systems. In addition to providing thorough impregnation, the solventless resin provides a smooth and continuous coating on the external surfaces of the wound coils. Through the VPI process it is also possible to produce random wound stators capable of passing IEEE specifications for sealed systems. Vacuum Pressure Impregnation is also suitable for impregnation of other electrical apparatus, i.e., field coils, lifting magnets, transformers, shaker coils, and retreatment of aged windings. The VPI process provides environmental and mechanical protection for your electrical apparatus that is equal to or better than several dips and bakes in conventional varnishes.
A series of tests must be performed throughout the repair process to ensure a quality repair. 
Rotor Testing
Baker Hi-Pot Testing
Phenix Core Loss Testing
Megger Testing
PdMA
Motor Vibration Analysis
Shaft Voltage Testing
Thermography
Detecting rotor bar defects early in the repair process is key is key to preventing costly rework, preventing any delays in repair turnaround time, and preventing premature failure of the motor once its back into operation.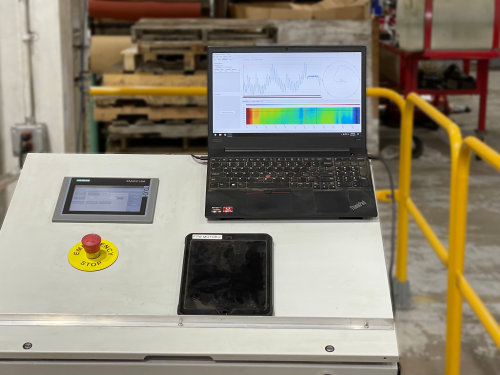 Safe test method with no risk of harm to the rotor
Detects major and minor defects
Testing can be done repeatedly during the repair process
Reportable
Effective on all rotors
It's Brandon and Clark's procedure to test for core losses at three critical points in the process: pre and post-roast off and after the windings have been removed.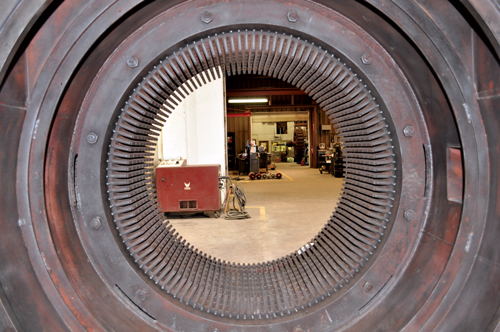 At the pre-roast off stage, core loss data is taken with the windings still in the stator at a standard of 85,000 lines of magnetic flux, near most manufacturer's original design.
The next testing point is at post-roast off. Again, using the standard of 85,000 lines of flux we then compare the preroast off to the post-roast off test. After measuring the core steel and calculating the actual designed lines of flux we can now determine the actual core loss of the stator.
The third test is done after the windings have been removed and the slot geometry has been measured and the true flux density of the iron core has been determined. Hot Spot testing is performed during the final core loss test, utilizing an infrared thermography camera measuring the hottest spot of the core steel compared to the average temperature of the back iron. The maximum variation between the back iron and the hottest spot should only be 15 degrees C. This portion of the test will be performed long enough for the temperature to stabilize achieving thermal equilibrium.
Thermography in the Repair Process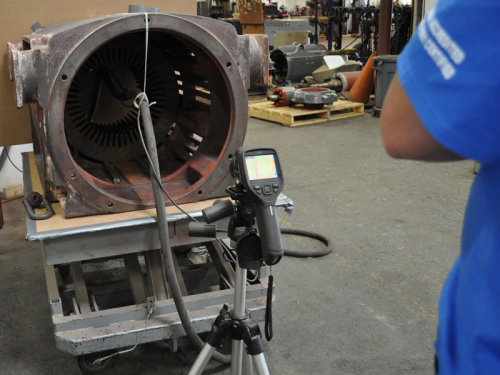 Brandon and Clark uses thermal imaging in conjunction with core testing to ensure there are no hotspots in the core that can cause the motor to fail prematurely.
Hotspots are caused by shorted laminations in the core. A motor core can pass core testing without these shorted laminations being found. We utilize Thermal Imaging technology, or thermography, to locate hotspots in the core enabling us to repair the core and help prevent future motor core failures.
Brandon & Clark provides an electrical fingerprint for the motors that we repair. We provide this fingerprint by using testing equipment called PdMA (predictive maintenance assessment).
The motor fingerprint that is created allows for a baseline to be set for each motor which allows customers to be proactive and schedule repair and maintenance of their equipment on a preventative, predictive schedule instead of a failure schedule. Since the PdMA, MCE is equipped with the MCE GOLD motor management software, Brandon & Clark is able to keep and monitor the entire test history of our customer's motor. The software also allows us to evaluate the data collected against the latest in acceptance criteria from IEEE and NEMA.
Using the PdMA equipment, Brandon & Clark, is able to assist our customers in predicting the maintenance required to prolong and protect the life of their equipment. This in turn helps our customers maintain control over their processes versus waiting for or hoping against equipment failure. PdMA also helps to control repair cost, by performing maintenance repairs versus catastrophic failure repairs.
Why should I "shaft voltage test" my motor?
Shaft voltage testing identifies any voltages on the motor's shaft that could potentially discharge through the bearings. High levels of discharge can cause damage to the bearings such as pitting and fluting which, then leads to bearing failure and shortened motor life.
What causes harmful shaft voltages?
With its ability to operate motors that can match its demand loads and alleviate electricity costs its no surprise the increased popularity of VFDs in the industry today. However, with its advancement, research shows that when utilizing VFDs, shaft voltages generated from the common-mode output is leading to arcing across the motor's bearings. Other risk factors of shaft voltages are, motor frame size, mishandling or damage to the motor, and improper grounding. 
How do I test to see if my motor has destructive shaft voltages?
When arching discharge occurs within the motor's bearings, the first telltale sign is vibration and an increase in noise, however if you are hearing noise generated by the bearings, its too late, the damage has been done. Another sign is "frosting", the microscopic pitting of the bearings, but to see this condition the motor must be disassembled.
Shaft voltage testing requires that the shaft of the motor be exposed and the motor energized thus creating an unsafe testing environment. To remedy this unsafe testing situation, Brandon and Clark has acquired the AEGIS® SVP Shaft Voltage Test Kit. With an oscilloscope, voltage monitor and this specially-designed shaft voltage probe, the operator's reach is extended making contact to the motor shaft by means of a conductive microfiber™ brush and measurements are taken safely. Careful observation of the waveform and monitoring the voltage levels will reveal evidence of shaft voltage discharge.  Conducting this test allows the customer and to make proactive decisions about the condition of the equipment.
Prevention & value added services from Brandon & Clark.
To safe guard against equipment failure and downtime, preventative maintenance is key. By allowing Brandon and Clark to routinely check the condition of your motor's shaft voltages, we can identify issues before they become problems. We can also take additional efforts to protect your motor against these bearing issues, including replacing the standard bearings with either ceramic or insulated bearings and adding grounding brushes and grounding rings.
All rotating equipment vibrates to some degree, the key is to monitor the equipment and take action before any serious damage can become an expensive problem. Vibration in electrical equipment can be caused by imbalances in the rotating parts, uneven friction, the meshing of gear teeth, bearing wear and a number of other causes.
Vibration analysis can detect the early warning signs of machine failure, allowing you to make the decision to repair or replace the equipment BEFORE an expensive failure and downtime occurs.
Vibration analysis can be applied to: motors, mechanical drives, pumps, gearboxes and compressors.
Critical Motor Storage and Maintenance
Brandon and Clark, Inc is committed to helping our customer keep their critical spare motors in a ready to use status. 
Motor storage and maintenance ensures the reliability of all spare motors as well as alleviating space and handling requirements at your plant's site.
While your critical spare motor is being stored in Brandon & Clark's facility:
The motors windings are tested periodically to ensure electrical integrity
Shafts are rotated if applicable
PdMA testing is completed routinely
Motors will be tested before being released back to the customer to ensure proper operation