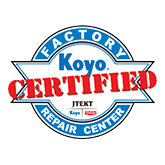 Since 2015, Brandon and Clark has been a Koyo Factory Certified Repair Center.
In order to become Koyo Factory Certified, Koyo has to deem you to be:
Longstanding experienced shops you can trust and grow with
Consistent, quality repairs
Added Value through increased capabilities
Commitment to continuous improvement and training
Reduction in downtime!!
The Importance of the Koyo Certification
According to the Institute of Electrical and Electronics Engineers (IEEE) over half of all electric motor failures are bearing related. Koyo's Certified Repair Center Program is geared towards improving a shop's overall bearing knowledge and eliminating typical failure modes associated with bearings and electric motor repairs.
The program to become Koyo Certified encompasses a 4-step process starting with a comprehensive shop audit by a Koyo representative, leading to a custom designed training class, followed by a certification exam for shop personnel, and lastly, a 2-year check up to make sure certification requirements are still intact.
Requirements to Become a Koyo Certified Repair Center:

Completion of a shop audit resulting in zero major or minor deficiencies
Shop technicians scoring an 85 or better on a bearing proficiency test covering general bearing knowledge
Koyo bearing purchases going only through an authorized Koyo distributor
Recertification every 2 years
Brandon and Clark has been trained to understand:
Bearing Basics – Nomenclature & Interchange Information
Proper Storage & Handling Techniques
Mounting Procedures
Lubrication Principles
Bearing Failure Analysis and Troubleshooting

Benefits of the Program:

Strengthen customer loyalty/relationships
Increased quality and consistency of repairs
Recognition of facility's capabilities/added value
Improved technician performance
Demonstrates a commitment to continuous improvement
Reduction in warranty returns
Other Memberships, Associations, Accreditation and Certifications​