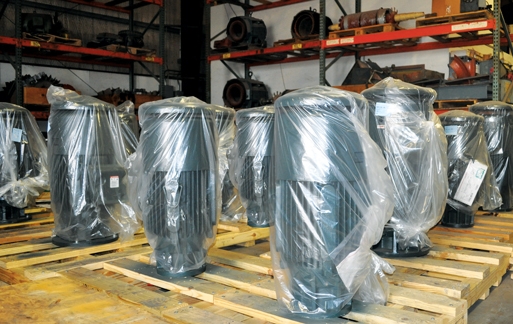 Robust. Dependable.
Brandon and Clark, Inc. is stocked and ready to ship the Toshiba LP Vertical Solid Shaft API 610 P-Base motors. This robust motor is ideal for the oil and gas and materials processing industries.  It high efficiency and torque ratings lead to longer life and greater reliability. It includes a patent-pending lubrication system that provides improved flow and circulation of grease and oil for longer bearing life. With its rugged construction, this motor was built to withstand the toughest of conditions and can be used in indoor and outdoor applications.
Product Information
Horsepower: 3 to 400 hp
Speed: 3600, 1800 or 1200 RPM
Voltage: 460 or 575v
Enclosure: Totally Enclosed Fan Cooled
Frame Size: 180 T through N449 (HP & LP)
Construction: Cast Iron
Insulation: Class F, Exceeds NEMA MG1 Part 31 (Inverter Duty)
Thrust: Normal (HP), Medium (LP)
Thrust Ratings: 520 to 1750 Pounds
Bearings: Thrust-Series for Minimum L-10 at 17,500 Hours
We are Growing
Brandon and Clark, Inc. is pleased to announce the expansion of its headquarters in Lubbock, Texas. The once open lot between our main motor shop and the controls building will be the foundation to our new 29,600 sq ft expanded facility. This brings our total motor repair, controls panel fabrication, automation design, air compressor service area, warehouse space and headquarter office space to 75,000 sq ft. Construction began on March 8, 2013 and is scheduled to be completed in early October of this year.
About Us
Brandon & Clark, Inc. is a diversified industrial sales and service company specializing in the field of electrical apparatus. Our sales and service solutions can be divided into five main segments: new product sales, electrical motor repair, transformer repair, field service and controls and automation. From line to load we are here for you.
Our Mission
We will consistently provide the highest possible quality of goods and services at a competitive price. We will always strive to embrace state-of-the-art technology of our industry in order to provide a level of value-added quality. We will maintain a quality assurance program that will always ensure the integrity and safety of our products. We will consistently conduct our business in a friendly, courteous manner which demonstrates a sincere appreciation for our customers.
History
Brandon & Clark, Inc. was founded on April 1, 1950 as an electric motor repair and field service company by Basil Brandon along with two stepsons, Bob and Bill Clark. Mr. Brandon, a retired salesman, provided the financing, management, and sales experience, while Bob and Bill provided the electrical and mechanical troubleshooting and repair skills. Since opening, the company has expanded to provide sales and service for electric motors, transformers, electrical equipment, air compressors, thermal imaging, industrial wiring, system integration, and custom controls for all areas of industry. Initially servicing West Texas & Eastern New Mexico, the company has grown into a regional electrical solution center serving the Southwestern United States. Headquartered in Lubbock, Texas, Brandon & Clark, Inc. has grown from its humble beginnings in a 25′ x 75′ building with 3 employees to a corporation with 6 locations and 200 employees. A family owned and operated business, now entering its third generation of leadership; we are still committed to the customer service and quality principles set forth by our founders.
Our Commitment to Going Green
Brandon and Clark, Inc. has been committed to the advancement of its quality policy and to the protection of the environment, health and safety. The purpose of our environmental policy is to achieve total customer satisfaction while minimizing any environmental effects and exploitation of natural resources which derive from the processes used and products produced by us. We will give our full cooperation to all authorities in order to meet legislation demands, all standards, regulations and conditions which relate to the preservation of the environment, health and safety.
Vendors
We are proud to offer products from vendors that are the best in the industry. This is just a small list of the large number of manufactures we represent.