Capabilities
Repair
Recondition and rewind 35-kV class 200-kV BIL
Conversions: voltage, KVA, physical configuration
All copper windings
New units available
IEEE/ANSI testing and design standards
K-factor design
Custom manufacturing
Failure analysis
Station type
VPI technology
Recondition and rewind units receive new mineral oil or FR3 fluid
Covert live front radial feed to dead front radial or vise versa
Add bay-o-net fusing or load break switch
Drain valve relocation
Cooling fan additions
Conversions
Brandon and Clark can perform redesigns and conversions to your padmount transformer including changes to :
voltages
internal accessories
external configurations
Conversions from live front to dead front or the addition of load break switches and bay-o-net fusing can be performed.
Other capabilities include:
changing primary and secondary voltages
KVA
K-factor rating
converting designs to a copper conductor material
Custom Manufacturing
Our custom padmount designs offer superior lead time along with the advantage of being a tailored-made solution to match your specifications. Custom manufacturing can save time and money ensuring that your Brandon and Clark manufactured unit is a direct drop in replacement preventing unnecessary modifications to your facility.
Brandon and Clark gives you the option to move the drain valve to the outside of the transformer tank. This change allows you the convenience of deenergizing the unit to take oil samples in a safer environment.
With a custom unit, Brandon and Clark can manufacture a unit faster than most manufactures can gather the material needed to build a new one.
Testing
Electrical tests include:
transformer turns ratio (TTR)
insulation resistance
winding/conductor resistance test (DLRO)
applied potential (hi-pot)
induced potential (double induced)
load, no-load test
FR3
Since 2005, Brandon & Clark has offered their customers the option to fill & retro-fill their electrical equipment with an environmentally friendly and EPA approved fluid called FR3®. Envirotemp FR3® fluid is made from food grade seed oils and food grade performance enhancing additives, which makes it completely biodegradable. FR3® fluid can help to extend the life of your transformers insulation and improves the transformers fire resistancy, through higher flash and fire points.
Remote Sampler Valve Kit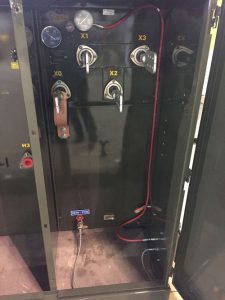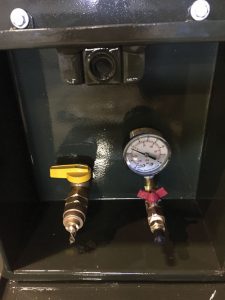 It well known in the industry that DGA (dissolved gas analysis) is among the most effective ways for detecting faults within a transformer.  Brandon and Clark now offers the safest, most convenient way of taking oil samples from your padmount transformer through its Remote Sampler Valve Kit.   This kit allows for oil samples to be taken in an environment that is safe with no risk of arc flash because the transformer doors are never opened.  The kit is located in an easy to access location allowing for samples to be taken without having to deenergize the unit.
As a part of your preventative maintenance program, Brandon and Clark will routinely take oil samples and send it to a third party laboratory for analyzing.  The results from the test will be stored and trended to make ensure that if something is out of the ordinary proactive measures can be taken.
Benefits
The greatest benefit to installing a Remote Sampler Valve Kit is for its safety capabilities. The technician servicing the unit has no concern of entering into an arc flash hazardous condition. The panel doors to the transformer never have to be opened and samples can be taken while energized, meaning no loss of production time.
Another great feature of the kit is that there is no great risk to the environment or the property around the padmount.  Sampling is done cleanly and precisely so leaking or spilling oil is not a concern.
To get the most accurate picture of the transformer's health measuring its oil during operation gives real time data of the oil's temperature and moisture content within the unit. No more adjusting or second guessing the temperature changes while waiting for the unit to come off line.
The return on investment (ROI) is without a doubt another great benefit of installing a Remote Sampler Valve Kit. The ability to prevent failure, prevent loss of production, eliminate arc flash hazard all add up to outweighing the cost of the kit.  You simply cannot put a price on a life!
Construction
All of Brandon and Clark, Inc.'s Remote Sampler Valve Kits are constructed of heavy duty metal that will stand the test of time and the environment.  Other units on the market are made of fiberglass, which can degrade over time.  Brandon and Clark, Inc.'s Remote Sampler Valve Kits have nameplate information inside the box for easy identification of units.
Oil Sampling Recommendations
It is recommended that oil samples be taken on a yearly basis for a healthy transformer. As time goes on and if proper maintenance is not performed, samples may be required more frequently.  As a value-added service of Brandon and Clark, each time we perform an oil sample recommendations of oil sampling frequency will be suggested and trending data will be collected.  Brandon and Clark is a trusted resource in an effort to keep your units running safely, efficiently and at tip-top health.
Installation
Brandon and Clark makes the install of its Remote Sampler Valve Kit simple and quick. The total installation time is approximately 1 ½ hours and can be done in the field or at our facility.
Nitrogen Purge Valve
The nitrogen purge valve plays an important role for oil sampling during the winter or when the ambient temperature is cold. Nitrogen creates a vacuum to help get the oil flowing.   All of Brandon and Clark's kits include a nitrogen purge valve whereas some other products on the market requires it to be a separate purchase.