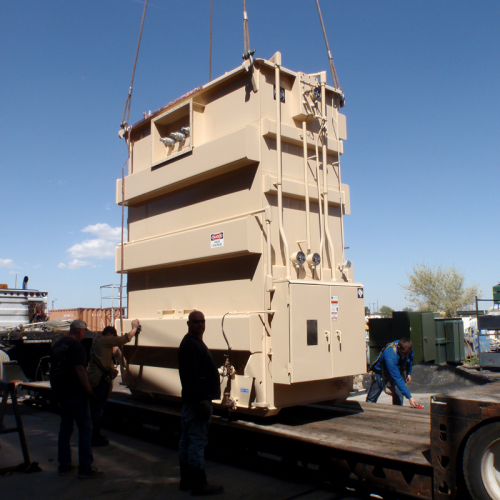 End-to-End Solutions for your Reserve Auxiliary Transformer
"Will-Fit" Advantage and Maintain Original Impedance Levels
The unique thing about reserve auxiliary transformers, is they are often times built around; meaning as the power plant expanded, equipment was built around the unit causing it to be "blocked in" or "landlocked" by its surroundings therefore making replacement tricky.  The solution to this situation is to either repair, recondition or rewind the unit rather than purchasing new. A new reserve auxiliary transformer, could potentially not fit back into its original location and poses the potential for misalignment of its connection points, bushing heights and altering its critical impedance levels. Altering the impedance levels will causing the need for an all-new arc flash analysis study to be performed on the system downstream of the transformer which could cause delays in recommissioning or worse off if the arc flash study is not performed, an unsafe environment has now be created.
Brandon and Clark specializes in repair services that takes the fear of "will it fit?" away, while maintaining existing impedance levels, bushing heights and connection points.
Reserve Auxiliary Transformers require the same regular preventative maintenance services as other transformer types do such as, oil sampling and routine checkups. Its cause of failure is also similar to that of other transformers such as the lack of maintenance, overloading conditions, gasket leaks and general aging of the unit.
Brandon and Clark's on-site transformer services will minimize the potential for failure through:
Regular preventative maintenance services
Oil sampling
Checking for leaks and trending any changes within the unit.
Even with routine maintenance, failures will still occur from time to time. Brandon and Clark provides complete repair and rewind services.
Perform quality repair services
Recommissioning services
Maintenance services that ensure good working condition after the repair
Benefits of Repair vs New
"Will Fit" Advantage
Connection Points Remain Unchanged
Bushing Heights Remain Unchanged
Reduce the Risk of Altering the Impedance Level
Quick Turnaround Time
Cost Savings