Renewable Energy Services
Specializing in on-site maintenance and support for electrical equipment used in managing the production of renewable energy, including wind and solar power.
On-Site Transformer Repair
Commissioning / Decommissioning
Internal / External Inspections
Hot Oil Processing / Degasification
Vacuum Filling
DGA Sampling
Remote Oil Sampler Valve and Nitrogen Purge Valve Kit
Gasket Replacement
Weld Leaks
Bushing Replacement
Fuse Replacement
On-Site Transformer Testing
Dissolved Gas Analysis (DGA)
Doble Testing
Insulation Resistance Testing
Winding Resistance Testing
CT Testing
SFRA Testing
TTR Testing
In-House Transformer Services
Full Padmount Transformer Repair and Rewind
Dehydration
Major Leak Repair and Oil Change
Forensic Failure Analysis
Generator and Motor Repair
Complete Generator Repair
Cooler Fan Motor Repair
Yaw Motor and Brake Repair
Lo Motor Repair
Go Motor Repair
Pitch Motor Repair
Transformer Field and In-Shop Services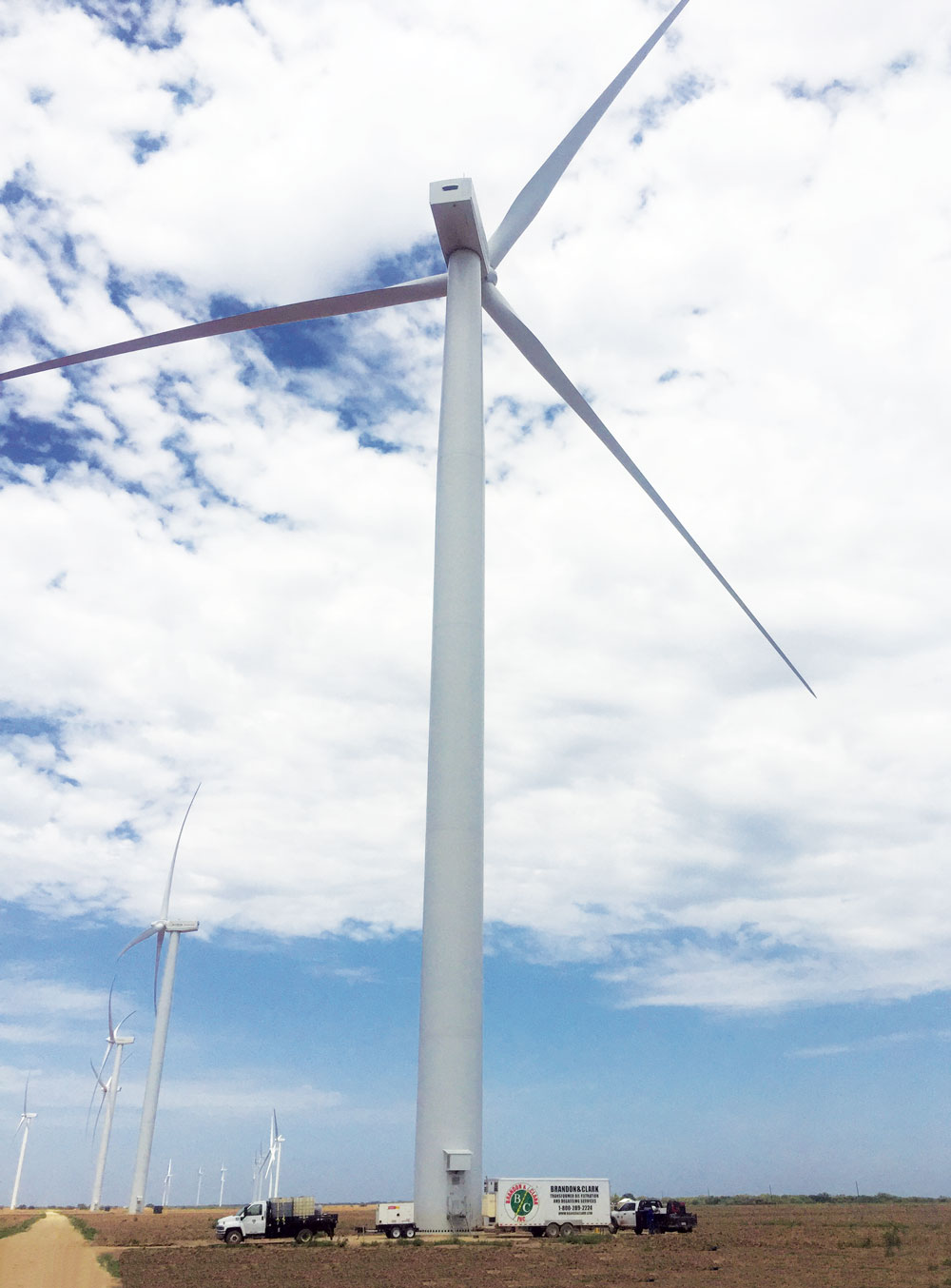 In Field Services
Often times, all a transformer needs to maintain good working condition is to undergo minor repairs. We have the capability to do these repairs in the field:
Gasket Replacement
Vacuum Filling
Weld Leaks
Bushing Replacement
Remote Oil Sampler and Nitrogen Purge Valves Installation
On Site Testing
Brandon and Clark, Inc. provides these on-site tests:
Doble® Testing
Insulation Resistance Testing
Winding Resistance Testing
CT Testing
SFRA Testing
Transformer Turns Ratio (TTR) Testing
Each transformer's test results are recorded and stored for trending analysis and recommendations made to ensure maximum life of the transformer.
Hot Oil Processing
Gas contamination and moisture are two of the most destructive agents in a transformer. Our hot oil/degassing mobile processor can eliminate the gas contaminates as well as reduce the elevated moisture levels within your mineral oil, which will extend the life of the transformer.
Commissioning and Decommissioning Services
From time to time it is necessary to take a transformer off-line, for reasons such as in-field repair, bushing and radiator removal/installation or for complete unit removal. It's important that this task be done properly to ensure the safety of those around the equipment and for the equipment itself.
How healthy is your padmount transformer?
Protecting your Padmount
From the wind turbine's generator comes the flow of electrical energy. This electricity's first connection to the energy grid is the padmount or step-up transformer. This first in line piece of equipment is crucial and vital to the entire system. Failure here is simply not an option.
Motor and Generator Repair
Brandon and Clark's electric motor and generator repair expertise will return to you a motor that is reliable and often times more efficient then when first manufactured.
Our assurances to you are:
All repairs will adhere to the high standards set forth by ANSI, EASA and IEEE

All repaired motors and generators will undergo a wide range of testing to ensure proper operation
Materials used in the repair process are of superior quality and reliability
Motor and generators are all balanced and check for vibration
Cause of failure report
Trending analysis and data collection will be stored
Capabilities:
Pitch and yaw motor repair
Generator repair
Gearbox repair
Pump repair
50 tons of lifting capacity
In-house machining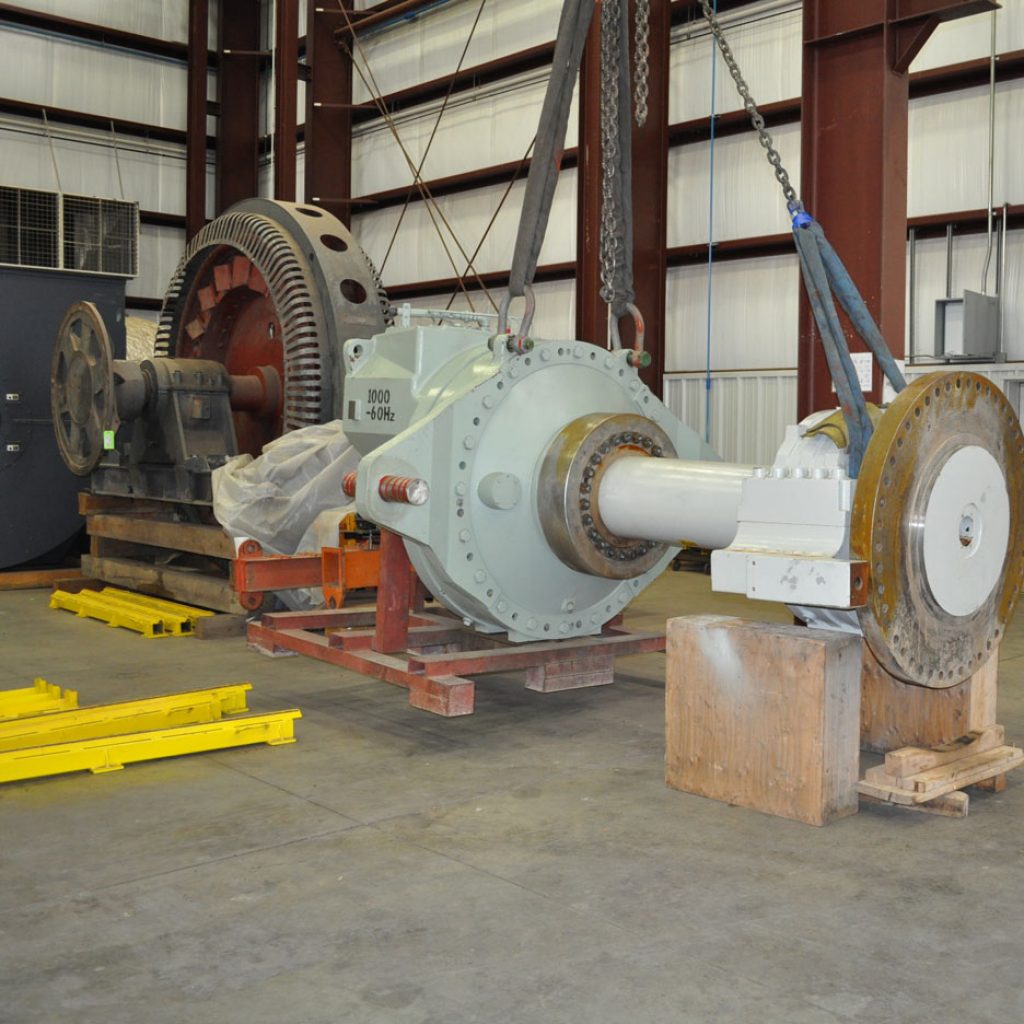 Engineering Services and Controls
Engineering Services
Brandon and Clark is a Licensed Engineering Firm with Professional Engineers on staff who can perform services that will help to ensure safety, design support and installation of electrical equipment.
As it relates to the renewable energy industry our services includes:
Battery storage calculations
Battery storage locations for optimal routing to the utility grid
Specification, design and engineering for DC to AC current synchronization to the utility grid
FAA lighting recommendations
Arc Flash and protection coordination studies from the generator to the utility grid
Forensic failure analysis
Controls
Brandon and Clark is a panel modification and fabrication facility capable of designing and engineering solutions to fit the needs of the renewable energy industry.
Capabilities:
Custom design
Programming on all platforms
SCADA
Build to Spec
Storage of spare units