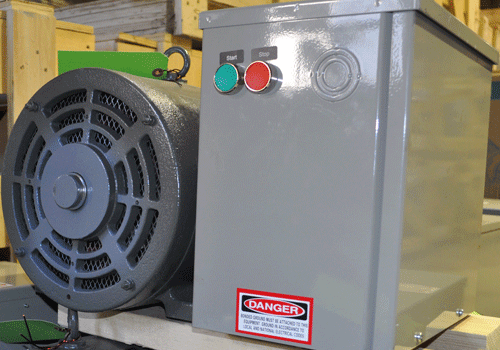 A Reliable Single Phase to Three Phase Converter
Brandon and Clark, Inc. introduces a converter that is dependable and economical. When you need three phase power from single phase lines, turn to the BCI Rotary Phase Converter.
The BCI Rotary Phase Converter starts every time on a lower voltage than most motors operate on. Under low line voltages, some rotary converters will not start. This can cause problems ranging from a converter burnout to blown fuses. With the BCI Rotary Phase Converter, these mishaps can be alleviated.
The BCI Rotary Phase Converter has a compact control panel which reduces the size and weight of the unit. The self-start feature of this unit eliminates the need for a rotary start capacitor bank that some converters need to start the rotary.  Also, "dead-spots" that can cause rotary burnouts are abolished.
The BCI Rotary Phase Converter incorporates a magnetic starter and start-stop push buttons into the controls. The ambient temperature compensated overload relay gives protection against unit overload. The thermal protection embedded in the winding adds extra protection against overheating of the unit.
Models are available to handle center pivot sprinkler applications at 460 volts.
Open drip-proof fully guarded with rodent screens
Cast iron frame and bearing bracket
Oversized vacuum degassed ball bearings
Thermal protectors embedded in winding
Starting protection
Start/stop push buttons for control ease
Easy installation
2-Year warranty
| Model | KVA | Voltage | FLA | Total HP | Largest HP |
| --- | --- | --- | --- | --- | --- |
| 4-215TP | 10 | 460 | 16 | 8 | 5 |
| 4-254TP | 15 | 460 | 24 | 12 | 7.5 |
| 4-256TP | 20 | 460 | 30 | 15 | 10 |
| 4-284TP | 30 | 460 | 48 | 20 | 15 |
| 4-286TP | 40 | 460 | 61 | 30 | 20 |
| 4-324TP | 50 | 460 | 78 | 40 | 25 |
| 4-326TP | 60 | 460 | 96 | 50 | 30 |