SIRIUS 3RS25
Temperature Monitoring with NO Special Software Required
Temperature Monitoring - Know It, Control It!
SIRIUS 3RS25 temperature monitoring relays can be used to measure temperatures in solid, liquid, and gas media. The temperature is recorded by a sensor in the medium, evaluated by the device, and monitored to determine whether it is within the upper and lower temperature limits.
Applications
Motor and system protection
Control cabinet temperature monitoring
Frost monitoring
Temperature limits for process variables e.g. in the packaging industry or electroplating
Controlling equipment and machines such as heating, air-conditioning and ventilation systems, solar collectors, heat pumps or warm water supplies
Motor, bearing and gear oil monitoring
Coolant monitoring
Overload protection in transformer windings
Simple two-point temperature controllers
MORE Functions in LESS Space!
Siemens Sirius 3RS2 Relay Features:
Available in an analog or digital version.
The devices being monitored can be reset manually, by remote access, and/or automatically.
Built-in memory function ensures that the last device state is stored and recovered in the event of a blackout.
The digital devices are also available with an IO link, so that temperature data can be forwarded to higher-level controllers and integrated in open cloud-based IoT systems, such as MindSphere.
Relays are certified according to functional safety standards and can be used in safety applications up to SIL 1 / PL c.
Can be used in industrial furnaces and burner applications.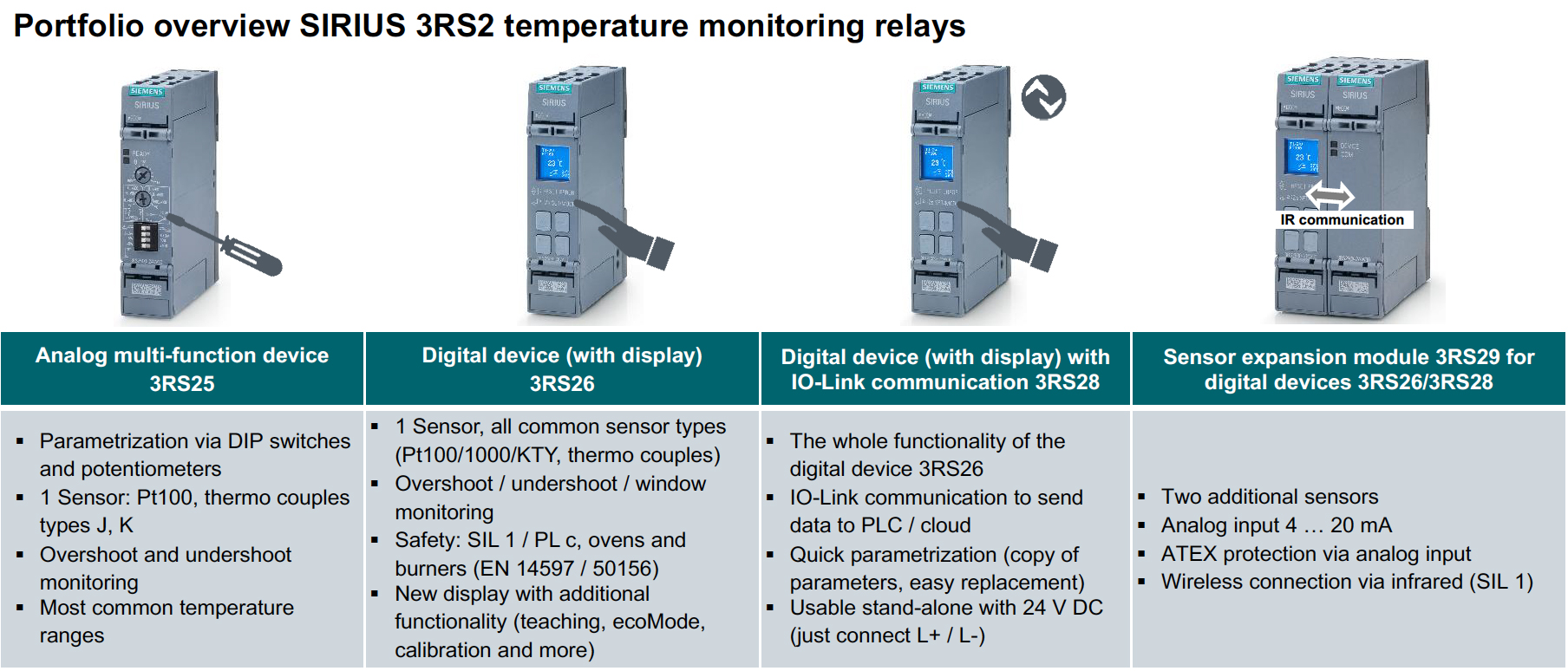 Advantages
Versions for a sensor, a threshold value, and for Pt100 sensor types as well as thermo elements J and K for the most common temperature ranges
Permanent wiring due to removable terminals in screw and spring-type technology (push-in)
Compact, easy to adjust two-point controller (overshoot and undershoot)
Relay changeover outputs for direct switching of loads and simultaneous use of the NC contact as the signaling contact
Easy operation using rotary potentiometer and settable hysteresis (5%, 10%, 15%, 20%)