Air, primarily, is the means by which cotton travels throughout the entire ginning process. Balancing the right moisture levels within that air directly effects the quality of the end product. Air must be at times heated, humidified, dried or moisture added all within one system and at any given time while in production. Air also enables pneumatic equipment to run. To understate the importance of air in a gin operations is a grave mistake.  Not only is air a critical element within the system it can also be a huge consumer of power.  Profitability is influenced by how a gin manages its compressed air system.
Air Pipe Installation Services
Getting air in and throughout the gin to facilitate the entire process is a task Brandon and Clark is accustomed to doing. We understand that a poorly designed air system results in inefficiency, loss of productivity and profitability. Therefore, before a single pipe is installed our staff works side by side with gin managers to identify exactly what velocity and pressure requirements are needed to work with the equipment in place and to maximize the system's efficiency.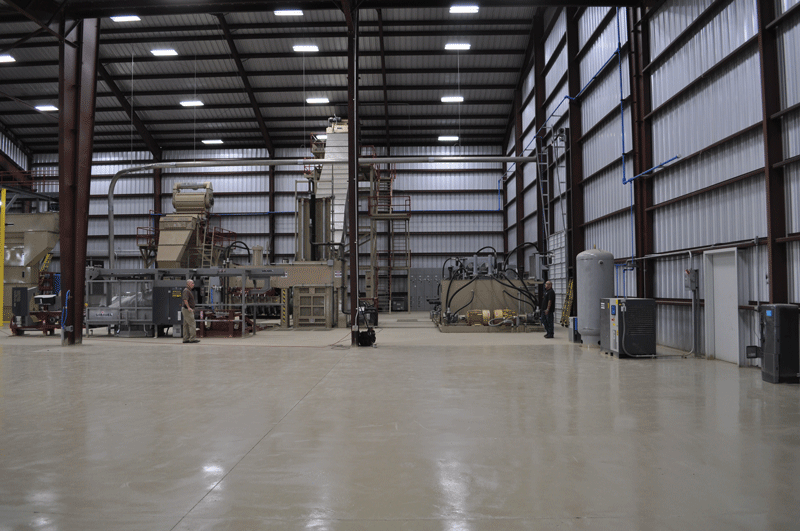 Installation Services Include:
Air audit will be performed
The results of the audit will aide in the determination of properly sizing the pipe to be installed
Piping will be simple and as direct as possible to avoid unnecessary elbows and valves
Once installation is complete, analysis of the system will be performed to insure efficiency gains are realized
Quality Pipe = Quality Air
Just as the great are the advances made in the controls of a gin, so is the pipe technology available today.
Rapid Air Fast Pipe or "Blue Pipe" is an aluminum product and the preferred choice of air pipe today
Utilization of this latest pipe technology allows us to avoid having to glue, thread, weld or solder thus eliminating leak potential
Expansions to the system can be done easily and quickly and less costly than with older cast iron systems
Quality pipe material ensures no corrosion in the pipe or fittings resulting in a longer life
Smooth inner wall and sealed connections = Energy Efficiency
Air Compressors and Dryers
The air compressor supplies the necessary air needed to operate the ginning system. Proper specification of the air compressor is necessary for a gin to run efficiently. Over or under sizing the unit is either waisting energy or over working the unit causing premature failure.
The ideal air compressor is typically in the form of an oil-injected, screw type. Screw compressors can run at 100% of its duty cycle as opposed to its alternate, the reciprocating compressor, who's runtime is 80%.
Dyers play an important roll within the compressed air system. Beyond just pulling out any excessive moisture from the cotton the dryer also has direct impact on the fiber quality. Dryers condition the seed cotton by fluffing the partly opened locks and creating a smoother gin flow. However, over-drying can occur if fibers get too hot causing them to become dry and brittle.
It's important to weigh out all the features, benefits, maintenance requirements and overall cost of ownership when determining the best air compressor and dryer  solution for your gin. Brandon and Clark can be that resource to walk with you through that decision process.
Air Compressor and Dryer Sales:
Brandon and Clark can offer purchasing guidance to determine the best suited air compressor and dryer for your specific gin, included in our product offering is:
Single and two stage rotary screw
Single and two stage reciprocating
Variable speed rotary screw
Variable capacity rotary screw
Two-stage high pressure rotary screw
Oil free rotary screw
Rotary screw heat recovery system
Point of use dryers
Air dyers – refrigerant and desiccant
Contaminate removal drains and separators
Replacement filters
Air Compressor Service and Maintenance
Keeping the compressed air system running efficiently relies on routine service and maintenance. It is recommended that air compressors be on a scheduled maintenance program. There are some tasks that are required daily, then others on a quarterly and annual schedule. Brandon and Clark is here for support in setting and maintaining these scheduled maintenance services.
Measuring Efficiency
"Talk is Cheap," as they say but if we are able to quantify exactly how much energy is being used while ginning, the results can be astounding. That method of measuring is through an Air Audit.  An air audit is a service provided by Brandon and Clark that will determine a baseline of energy use, peak and off peak usage in date and time format, as well as provide suggested changes to improve the efficiency and reduce costs. Simulations within our auditing tool will tell you exactly the expected outcome if recommended changes are made and the expected payback time.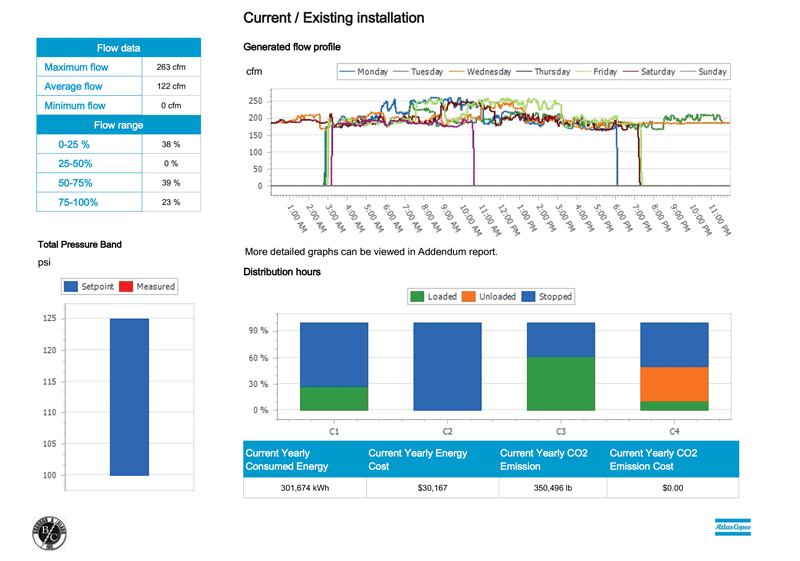 Clean Container Compressed Air System - Case Study
In a cotton gin, one of the most vital components is its compressed air system. All of the pneumatic equipment depends on clean, reliable air in order to operate as designed. It's no surprise that in the heat of the ginning season, a lot of dust and debris is flying around all the equipment. Often times, production of cotton must be stopped in order to blow down equipment and or emergency service is needed for the compressors. Even when you do regularly clean, dust can still hinder your maximum output potential. Therein lies a custom solution from Brandon and Clark. We will take your entire compressed air system outside of the gin into a self-contained structure keeping the air system virtually free of debris.
As a turn-key solution, Brandon and Clark integrates all the compressed air system components including the dryer and compressor into the building, along with proper ventilation so equipment will remain at a good operating temperature, and we provide all the electrical and air pipe necessary to connect to the gin. This not only frees up valuable floorspace within the gin, it also enables a clean environment for the compressed air system to operate and enables a safe workspace for maintenance to the compressors.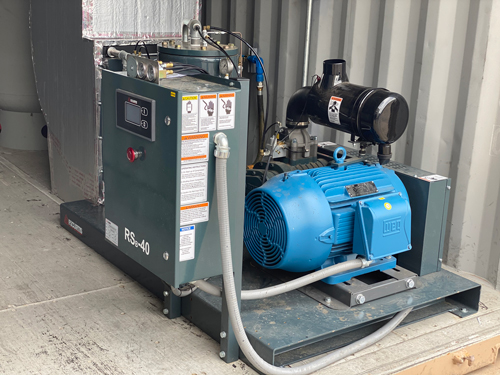 Solution Highlights:
Self-contained structure that is virtually free of dust and debris.
Safer work environment to perform maintenance tasks.
Frees up valuable floorspace within the gin.
Ventilated for equipment temperature control
Lighted
A total turn-key solution