Capabilities at a Glance
Motor installation
Laser alignment
Dry ice cleaning
Full diagnostic services
Baker hi-pot testing
Phenix core loss testing
Megger testing
PdMA
Efficiency analysis
Motor vibration analysis
Vacuum pressure impregnation (VPI)
Shaft voltage testing
Documentation and trending
Field balancing
Critical motor storage and maintenance
Annual motor preventative maintenance contracts
Vacuum Pressure Impregnation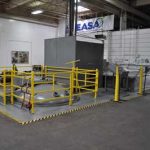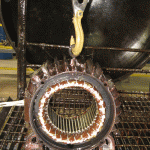 All Brandon & Clark windings are processed using Vacuum Pressure Impregnation or VPI. VPI means that windings are processed under vacuum and pressure with solventless epoxy resin to provide void-free electrical windings. The VPI process provides maximum penetration of resin throughout the turns in insulation of individual coils.
VPI is designed specifically to provide complete and void free impregnation on dry-wound insulated form-wound stators to satisfy the requirements of IEEE specification for sealed systems. In addition to providing thorough impregnation, the solventless resin provides a smooth and continuous coating on the external surfaces of the wound coils. Through the VPI process it is also possible to produce random wound stators capable of passing IEEE specifications for sealed systems. Vacuum Pressure Impregnation is also suitable for impregnation of other electrical apparatus, i.e., field coils, lifting magnets, transformers, shaker coils, and retreatment of aged windings. The VPI process provides environmental and mechanical protection for your electrical apparatus that is equal to or better than several dips and bakes in conventional varnishes.
Phenix Core Loss Testing
Brandon & Clark performs Phenix Core loss testing and high frequency evaluations on all motors at 400hz for stater lamination evaluations. Phenix testing is also used to test for core iron damage before and after your motor is rewound. If your motor has core iron or lamination damage it can cause the motor to fail, consume more energy, or generate more heat. Heat in turn will reduce the reliability of your motor and its overall functional life. By having your motor Phenix tested with Brandon & Clark you are increasing your motors reliability, and reducing your overall operating and maintenance cost.